An Austin bachelorette party is ideal for the bride who loves a multitude of fun activities with her friends! Austin is the capitol of Texas and borders the stunning Texas Hill Country, so there's an abundance of different Austin bachelorette party ideas to find here.
Bar crawling, window shopping, and spending a day in the sun at one of the stunning lakes or swimming areas are just a few ways to surprise the bride with an unforgettably fun weekend.
A tour we think you'll love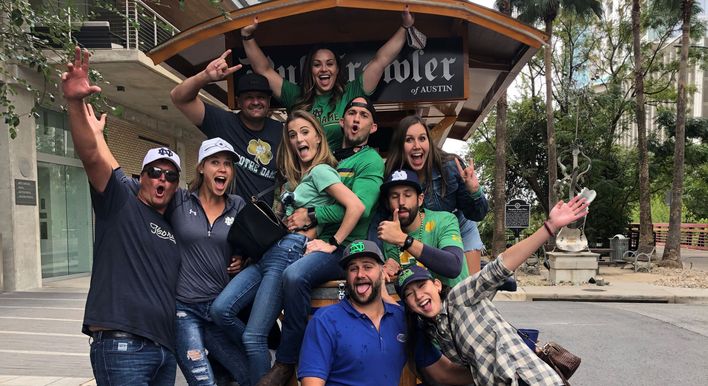 Public PubCrawl Tours
From $45
View tour
1) Hit The Streets Of Downtown Austin On A PubCrawler Tour
Guys aren't the only ones who love a good craft beer or cocktail! The PubCrawler of Austin bike bar tour is a unique bachelorette weekend experience that leads you around downtown Austin.
Not only will you encounter stunning city views while pedaling away with the bride, but your expert local guide will lead you on an entertaining journey to different trendy bars, murals, and food trucks in the area.
No Austin bachelorette party is complete without a PubCrawler of Austin bike tour, so be sure to schedule your date and time in advance to surprise the bride!
2) Explore Rainey Street's Unique Bar Scene
Rainey Street is known for being an optimal place to host bachelorette parties because of the bungalow-style bars and restaurants that line the area. This street has a much more laid-back atmosphere than its rowdier sister, Sixth Street, but you'll still find an abundance of good food, hotels, and places to grab drinks like "The Allison" or "The Jenna" to commemorate the upcoming nuptials.
Some of the favorite local hotspots include:
VIA 313

Banger's Sausage House

The Parlor Room

G'Raj Mahal Cafe

Lucille Patio Lounge
3) The Best Austin Bachelorette Party Ideas Start On The Water
If you've ever been to Texas in summertime, then you know just how scorching the days can be. Add a day on the water to your Austin Bachelorette party itinerary by booking a private boat tour of Lake Travis.
The fee for your aquatic bachelorette party includes a fun-loving captain, fuel, and all the floaties a girl could hope for – all wedding themed, of course! There are extra large coolers on deck to bring your drinks and snacks and several carafes of juices to mix your favorite drinks on board.
4) Another Austin, Texas Bachelorette Party On The Water
Lake Austin is a lively location similar to Lake Travis, but the party really ramps up here! If the bride-to-be loves to take Instagram-worthy photos with her gal pals, then you should definitely add this place to your Austin bachelorette weekend itinerary. Not only will your captain have amazing Spotify playlists on deck, but they even have bridal props and floaties available to amplify the wedding vibes of your bachelorette party!
5) The Perfect Bachelorette Party In Austin For The Bride Who Loves Shopping!
If you're planning to bring your best friend's bachelorette party to Austin Texas, then you have to make sure to visit South Congress for some of the best shopping opportunities in the city.
The entire street is lined with adorable, quirky boutiques with clothing, accessories, trinkets, and so much more, so the entire party is sure to find a memorable token to bring home.
Don't forget to check out some of the fine and casual dining establishments on your trek up South Congress. There's no better place in the city to go shopping and grab a bite to eat with the girls for a perfect Austin bachelorette party outing.
6) Dance The Night Away For Your Bachelorette Party
Bachelorette parties aren't complete without a dance party with the bride tribe! No matter where you go in Austin, it's easy to find a location to dance for the bachelorette party.
From dance studios with professional instructors who will teach you the art of line dancing, flying on a pole or two-stepping to honky tonk music, there's always somewhere to host a dance party for the bride!
7) Host A Bar Hopping Bachelorette Party On Sixth Street
Sixth Street is where the nightlife of Austin really comes to life! There are countless places to stop in for a craft cocktail, dance the night away, and celebrate the bride!
Pete's Dueling Piano Bar is a local favorite that just might get your bride to buddy up on the stage! They know hundreds of old-school and popular songs and take requests all night long for one of the best live music shows the city has to offer.
Some other hotspots you don't want to miss include:
RIO

Kung Fu Saloon

The Rustic Top
8) Cool Off At Barton Springs
If the bachelorette party needs to cool down from too much fun in the sun, then grab your beach towel and head to Barton Springs. This natural bottom pool is open to the public and has plenty of room for countless swimmers!
The water stays at a frosty 68 degrees, so it's always a go-to spot for hot summer days. There's no alcohol allowed, so it's the perfect location to sober up and get back to reality after a long bachelorette party weekend.
9) Enjoy A Wine Tasting Tour In Texas Hill Country
Another bachelorette party favorite that abounds in the Texas Hill Country is wine-tasting tours. There are several locations that host luxurious tours of various wineries in the area.
Dress your best, hop in a luxury car, and enjoy a relaxing day with a knowledgeable, professional bachelorette party guide as you visit several tastings throughout the area.
Plan A Memorable Bachelorette Party In Austin
You absolutely must try the PubCrawler of Austin tour for your bachelorette party when visiting this unique Texas city. Your Austin bachelorette party guide will ensure the bride has a blast and the bike bar will show you to some of the best places to visit while you're in the city.