Who we are
Welcome to the ultimate Austin pub crawl! Explore Austin Texas on a party bike built for 15 adventure lovers just like you. This is no ordinary pub crawl. Our PubCrawlers travel through the beautiful streets of downtown Austin with a local driver leading the way. Our Austin party bikes are easy to pedal with an electric pedal assist motor. We offer private bike bar crawls on two routes, Downtown Austin and Riverside.
The Downtown Austin bike tour route explores trendy bars, restaurants, and food trucks. Your local guide leads the bike down picturesque streets with colorful murals and great photo opportunities. We'll make bar stops, and you are welcome to BYOB for enjoyment during the ride. Pedal pub tours are so much fun for bachelor parties, bachelorette parties, and birthday parties. Book a private tour for your company outing and experience the ultimate in team-building.
PubCrawler of Austin's Riverside route is a great scenic tour. While crossing Lady Bird Lake, you can take in all of the activities below and enjoy an awesome view of the city. Fun bars and food trucks abound on both sides of the water. As you make your way back, you'll pass Austin City Limits, home to the longest-running music series in television and the namesake for ACL music fest before making a bar stop in the bustling warehouse district. This motor-assisted pedal-powered pub crawl will keep you and your friends entertained for 2 hours. Note, this tour requires more pedaling and often only allows for 2 stops.
Explore our activities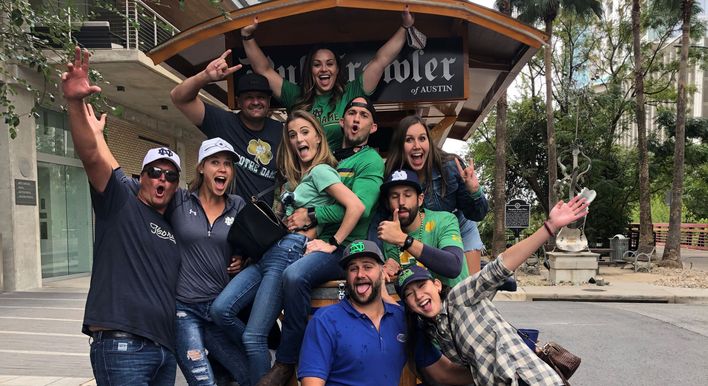 Individual seats are great for single riders, date nights, and small groups celebrating any fun occasion. Just $45 per seat!
Come unwind, gear up, and pedal as you enjoy this great way to make new friends and tour downtown Austin. Our public tours are designed for small groups or groups who do not want to rent a private party bike. We require a minimum of 5 people total to run this tour. You will be notified prior to the tour if the minimum number of guests is not met and given options to reschedule or cancel with a full refund.
TOURS DEPART AT THEIR SCHEDULED START TIME WITHOUT EXCEPTION.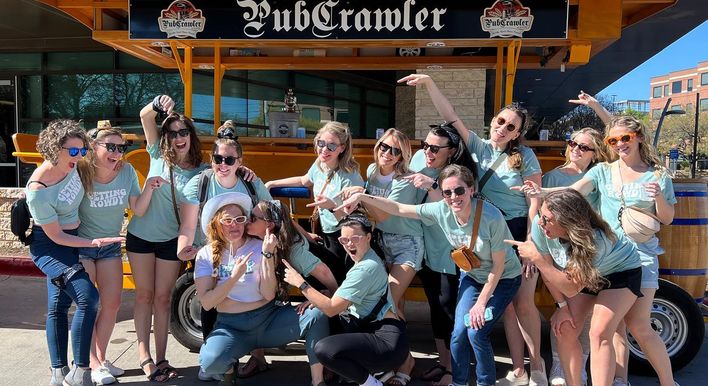 Great for birthday parties, bachelor/bachelorette parties, reunions, graduations, and company outings. From $465 per bike.
Reserve a PubCrawler party bike or multiple party bikes privately for your group of 5-135 people at a flat rate. Each bike can accommodate up to 15 passengers. If your group slightly exceeds 15 we have several options to consider. Please see the FAQ for a breakdown of these options. We offer a couple of fun routes to choose from: the Downtown Route or the Riverside Route. Please note that it is not necessary to select your route when making your reservation as your driver will discuss this with you and your group upon arrival. Please contact us directly at (512) 657-7334 if you would like assistance with a large group reservation.
Austin's Original Party Bike and Trip Advisor Hall of Fame Activity!
All PubCrawler tours begin from our spot on Austin's famous West 6th Street. Our electric pedal-assisted party bikes have seats for 15 guests, ten with pedals, and five seats for riders. In addition to stopping at some of the best Austin bars, you are welcome to bring your own beverage to enjoy on the ride. Our tours travel through the heart of downtown Austin where you will take in the sites of the Capitol building, amazing cafes, and eclectic shops. Your friendly and experienced driver will have an ice chest with ice, cups, and a great attitude! And our PubCrawlers are equipped with a sound system you can connect to for the ultimate party experience!
Fun
A great way to have fun with friends and family while getting some light exercise. You and your friends can pedal your way through the streets while enjoying the sights and sounds of the city.
Memorable
Our Party Bike Tours offer a fun and unique way to see the city and create lasting memories with loved ones. You'll bond over the shared experience of pedaling and exploring a new place.
Must-Do
If you're looking for a unique and memorable experience, our Party Bike Tour is a must-do. You'll have a blast pedaling your way through the city with your friends.
Highly recommend!! We had the best time touring the city with Alex!!! He is AWESOME!!!!! So much fun!!
This experience was one for the books! Myself and my 7 girls celebrated my bachelorette party and we had such an amazing time! Robert was our driver and Alex was in training. They both were absolutely GREAT!!!! They made our trip so much fun! Laughing, Joking around, blasting music and drinking through Austin, I will never forget this!!! If you are coming to Austin, I HIGHLY RECOMMEND DOING A PUB CRAWL!!!!
Brittany Papcun
12th April 2023
My friend's bachelorette party in Austin was absolutely amazing, and one of the highlights of our weekend was the Pubcrawler tour. We had such a blast riding around on the bar bike, visiting some of the city's best bars, and dancing to music with our fantastic host, Robert. Robert made our experience unforgettable. He was so much fun and kept us all laughing and dancing throughout the tour. He was also always happy to take photos for us! The Pubcrawler was a perfect choice for our bachelorette party because it allowed us to enjoy the beautiful weather and see some of Austin's best sights while having a few drinks and dancing with our girls. Overall, I highly recommend the Pubcrawler of Austin for any bachelorette party or group event. It's a unique and fun way to experience the city, and with a host like Robert, you're guaranteed to have a great time. Thank you, Robert, for making our bachelorette party unforgettable!
We had so much fun for my bachelorette party! Thank you so much for a memorable experience!
Taylor Fryer
11th April 2023
Tracy Kapteyn
10th April 2023
Danielle Bartlett
8th April 2023
Robert Toombs
8th April 2023
Great experience. Tyson did a fantastic job
Daniel Bartlett
8th April 2023
Came down to ATX for my buddy's birthday. Had a great time, great views of the city, and had an awesome driver!
Jacob Pfaff
6th April 2023
We had the BEST time at PCATX!!! Robert was so fun and personable!
Grace Lindsly
5th April 2023
Previous
Next
Location
Beautiful Austin
If you are planning your first trip to Austin, you are in for a real treat! Austin is famous for its fantastic food, friendly people, and live music. From the bars on Rainey Street to the bars on East and West 6th Street, you are sure to find the perfect spot to enjoy with friends and locals alike.
The bustling warehouse district is the hip and happening place to be for partiers who like a little grunge. The renovated vintage warehouses house an eclectic mix of restaurants, dance clubs, and lively bars. Top hotels like the Fairmont, Hotel Zaza, The Driskell, and Royal Sonesta are at home in this part of the city. Tour the warehouse district by day to shop at the farmers market, visit the Mexic-Arte Museum and enjoy the mouth-watering food trucks. And a trip to Austin is never complete without a stroll on South Congress to enjoy the endless cafes, shops, and murals.
Frequently asked questions
Most frequent questions and answers
Recent news
Are you planning a trip to the Texas capital and wondering what to do in Downtown Austin? Whether you enjoy listening to live music at one of the many venues throughout the city or want to get back to nature…
If you're searching for date ideas in Austin to make your significant other's heart skip a beat, you've come to the right place! We will cover several fun things to do in Austin that will make your date night one…
An Austin bachelorette party is ideal for the bride who loves a multitude of fun activities with her friends! Austin is the capitol of Texas and borders the stunning Texas Hill Country, so there's an abundance of different Austin bachelorette…
Why wait? Book a tour online now!
.
Come make memories and experience Austin in a unique way!